Lionel Avet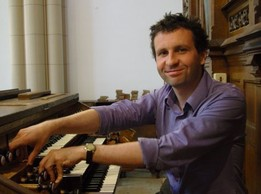 Lionel Avot
After having taken up the piano in his childhood, Lionel Avot began the organ aged twenty-three;
his encounter with Jean Boyer was decisive. He entered the class at the Lille Conservatory in 1988,
then earning the gold medal and prix de perfectionnement in that of Aude Heurtematte.
He has taken part in numerous master classes and attended many workshops concerning the work of
César Franck under the direction of Jean Boyer (in San Sebastián in Spain and Haarlem in The Netherlands).
In 1998 he won third prize in the International Organ Competition at the organ of the Cathedral of Saint Bavo (The Netherlands).
He is also a prizewinner of the international competitions in Biarritz and in Vilnius (Lithuania) for the best interpretation
of the contemporary piece.
He is regularly invited to play in Paris (Notre-Dame Cathedrale, Saint-Sulpice, Saint-Etienne-du-Mont, Saint-Thomas-d'Aquin,
Saint-Louis-en-l'Ile, Saint-Gervais...) and also elsewhere in France (Sainte-Croix Abbey Church in Bordeaux,
Notre-Dame de Fourvière Basilica and Cathédrale Saint-Jean in Lyon…) and abroad (the Dom Church in Riga, Latvia,
Saint John's Church in Lüneburg, Germany, the Aubertin organ in Karuizawa, Japan...).
In 2010, he plays for the Creation of the Choral of Yves Lafargue at Saint-Antoine des Quinze-Vingts in Paris.
Passionate about teaching, he is professor at the Jehan Alain School of Épinay-sur-Orge and assistant organist with
Liesbeth Schlumberger at the Mutin Cavaillé-Coll of the Église de l'Étoile in Paris where he organizes a season of concerts.
Lionel Avot is also special project employe of the Music Department of Radio France.
For his first CD, he chose the organ of Notre-Dame de la Dalbade in Toulouse to perform the Works of César Franck
(Hortus Edition - 2011 ;www.editionshortus.com)

« A reference of the collection, an authentic success » (Gérard Condé, Journal Le Monde).